2014-07-10
News Certificates for new Bachelors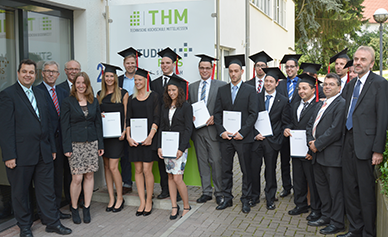 Congratulations to our colleague Lisa-Marie Schmidt, who completed her Bachelor degree in Business Administration successfully!
On Thursday the 10th of July 2014 as part of a solemn ceremony at the Campus Bad Wildungen the graduates of StudiumPlus have been awarded with their bachelor certificates. The employees of Analyticon Biotechnologies AG are happy for Ms. Lisa-Marie Schmidt, who completed her business degree with an excellent result.
Staff training is an important tool in the personnel management of Analyticon and thus a fundamental building block for the company's success. Lisa-Marie Schmidt had already completed her training as an industrial clerk in the company and will now support as a brand manager the marketing department.