Urine Diagnostics / Analyzer / Urilyzer Duo
back to overview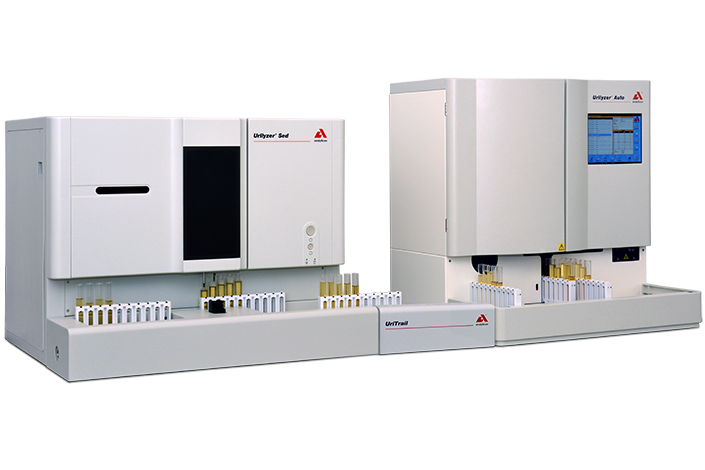 The Urilyzer
®
Duo is a newly designed fully-automated urine workstation. It is the ideal combination of urine chemistry and urine sediment connected by a bridge solution - UriTrail. The urine chemistry analyzer offers a high-end pipetting system with ascorbic acid protected urine test strips. The urine sediment analyzer provides high-quality imaging results including automated identification and classification of urine particles that are verifiable on screen. The results are shown in an integrated customizable report.
► Product video here
More details & features
Reliable performance
User-friendliness
Cost-efficient operation
Professional support
Sample types
Native urine
Sample loading
100 samples
Throughput
240 tests/hour / up to 90 tests/hour
Sample volume
3 ml
Data storage
10,000 / 200,000
Display
Built-in touchscreen / External laser printer
Printer
Internal/external
Windows based
Yes
Interfaces
Serial RS232, USB, Ethernet
Dimensions
1580 x 650 x 635 mm (WxDxH)
Weight
120 kg
Operating environment
Temperature: +15°C to +30°C
Relative humidity (non-condensing): 20% to 80%
Consumables
Urine test strips, water / 3 cleaning solutions
Daily maintenance
Up to 6 min.
Performance Urine Chemistry
Parameters
Bilirubin, Urobilinogen, Ketones, Ascorbic acid, Glucose, Protein (Albumin), Blood (Hemoglobin), pH, Nitrite, Leucocytes via CombiScreen® 11 Auto urine test strip;
Specific gravity, Color, Turbidity via PMC (Physical Measurement Cell) module
No. of parameters
10 + 3 (PMC)
Onboard stability
3 days
Measurement technology
Reflectance photometer with 4 wavelengths: 505, 530, 620, 660 nm + PMC
Loading capacity
150 urine test strips (one tube)
Performance Urine Sediment
Parameters
11 Auto-classified particles: Normal Red blood cells, Abnormal Red blood cells, White blood cell, Casts, Squamous Epithelial cells, Small round Epithelial cells, Epithelial cells, Yeast, Crystal, Mucus, Bacteria (further particles for sub-classification by user available)
RBC morphological analysis: Histograms with information about size, form and chroma of RBC
Measurement technology
Automated microscopic urine sediment particle analysis in low (LP: 100x) and high power (HP: 400x). Identified and auto-classified particles are presented in whole field of view images (LP and HP) after being sedimented in the counting chamber.
Before you fill out the form and submit, please read our
privacy policy
!